We Remember Richie!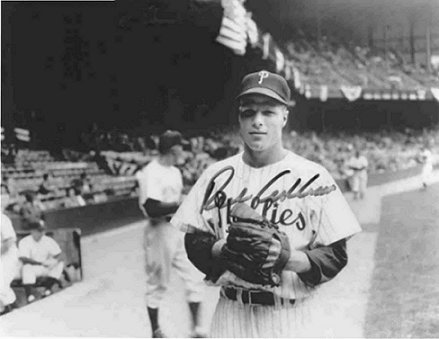 (Richie at 1950 World Series)
Richie "Whitey" Ashburn
1927-1997
Phillies Centerfielder 1948-1959
Phillies Broadcaster 1963-1997
Year
Team
AB
H
2B
3B
HR
BB
SO
Avg.
1948
Philadelphia
463
154
17
4
2
60
22
.333
1949
Philadelphia
662
188
18
11
1
58
38
.284
1950
Philadelphia
594
180
25
14
2
63
32
.303
1951
Philadelphia
643
221
31
5
4
50
37
.344
1952
Philadelphia
613
173
31
6
1
75
30
.282
1953
Philadelphia
622
205
25
9
2
61
35
.330
1954
Philadelphia
559
175
16
8
1
125
46
.313
1955
Philadelphia
533
180
32
9
3
105
36
.338
1956
Philadelphia
628
190
26
8
3
79
45
.303
1957
Philadelphia
626
186
26
8
0
94
44
.297
1958
Philadelphia
615
215
24
13
2
97
48
.350
1959
Philadelphia
564
150
16
2
1
79
42
.266
1960
Chicago (NL)
547
159
16
5
0
116
50
.291
1961
Chicago (NL)
307
79
7
4
0
55
27
.257
1962
New York (NL)
389
119
7
3
7
81
39
.306
(Ashburn (sitting, second from right) with '51 Phils teammates)




On July 31, 1995, my two young sons and I, along with about 60 other police officers from Philadelphia, embarked on a pilgrimage to Cooperstown, New York, for the Baseball Hall of Fame Inductions of Mike Schmidt and Richie Ashburn,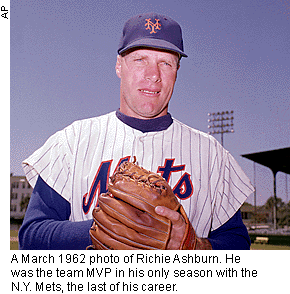 two legendary Philly players. We were joined at the Hall by over 200 buses and 30,000 Philadelphia fans who came to honor the inductees. It was the largest crowd ever to descend on Cooperstown. We came to cheer for Schmidt, who was undoubtedly the greatest third baseman ever. The Hall of Fame President remarked in his opening speech, that he knew how Moses felt when he parted the waters of the Red Sea, as he gazed upon the thousands of fans with Philly hats and shirts. Schmidt received a tremendous ovation when he was introduced, but it was immediately obvious that the hearts of the thousands of fans were there for Richie, a Philadelphia Icon since 1948. For fifteen years he had been a star center fielder for the Phillies, and for thirty five years he had broadcast the Phillies games on both television and radio. His appearance at the podium prompted an ovation which seemed like it would never end. Ashburn was overwhelmed and spoke with tears in his eyes. No Philadelphian, who ever heard or watched a ball game, will ever forget "Whitey" and his humor, class, love of the fans, and love of the game. In a city well known for its cynical and unforgiving fans, a city who bombed Santa with snow balls at Eagles games and has driven athletes to desperation, Ashburn had become the most well known and loved Philadelphian. Originally from Tilden, Nebraska, he made Philadelphia his home and for 50 years was central in the lives of baseball fans. Who can forget his stories of being beaned in the on-deck circle by Sal "the barber" Maglie for timing his pitches, and on another occasion how he hit a foul ball which struck a female fan, and struck her with another foul while she was being carried out on a stretcher. Overshadowed during his playing career by Mays, Williams, Mantle, Snider and DiMaggio, Philadelphians knew what they had and showed their appreciation over and over. To the shock of the baseball world, Ashburn passed away on September 10, 1997, only hours after finishing his radio broadcast. Over 20,000 fans attended his viewing in Memorial Hall a few days later. Goodbye Whitey! The game will never be the same.

Whitey Enjoying the Ride to Cooperstown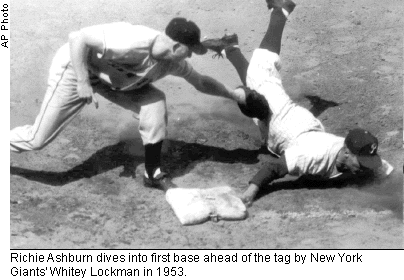 You couldn't spend any substantial amount of time as a sports fan in Philadelphia without having a favorite "Whitey" memory. Mine involves a game in the late 80's. The Phillies had recently obtained Von Hayes from the Indians, and he was having a great year. He had become a favorite of local kids. My son, seven or eight at the time, was standing along the railing at the third base line in Veterans Stadium. Hayes and several other players were signing autographs. There was a large crowd of fans, but a seven year old boy is usually not deterred. He stood 50 yards away from Hayes holding out a ball for Hayes to sign. He was leaning over the railing. Ashburn, who had just concluded a pre-game on-field interview, walked by and saw him. He walked over to sign the ball, thinking it was his autograph he wanted. He pulled the ball back from Richie. Ashburn again tried to take the ball to sign it. He again pulled it back and pointed to Hayes, shaking his head NO! when Ashburn offered to sign it. By this time, Richie was amused, and so were the fans sitting along the field. After repeated attempts Ashburn smiled, threw his arms up in frustration, and walked away shaking his head. I am sure that was the only time in Richie's memory, that a fan had refused to accept his autograph!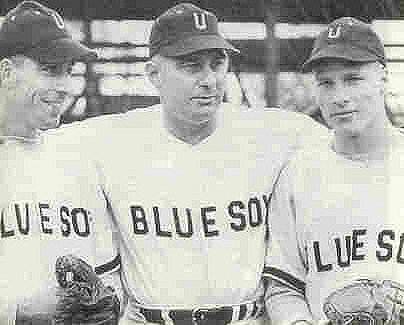 With Manager Eddie Sawyer
and the Utica Blue Sox, 1945
Ashburn was a catcher!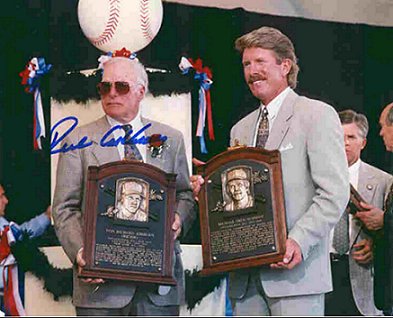 Ashburn and Schmidt
Cooperstown Induction
July 31, 1995
The Voice That Ran Through Our Lives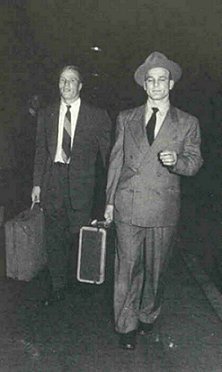 (Ashburn and Andy Seminick
arrive at 30th St. Station
after World Series loss to Yanks in 1950)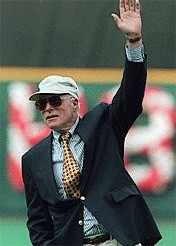 Sign My Guestbook
View My Guestbook